International students can sometimes face problems seeking healthcare here in the United Kingdom and some are not even aware of help they can receive.
Medical Treatments For EU Students 
Students from the EU that hold a European Health Insurance Card (EHIC) are covered by the NHS which entitles them to free NHS treatment, but students outside the EU will have to seek alternatives.
If a Non-EEA student is studying on a course 6 months or more, they will have to pay an Immigration Health Surcharge that is part of their visa applications and cost £150 per year.
Non-EU Students
None EEA (European Economic Area) students that are studying on courses less than 6 months are not covered or entitled to free NHS treatment, therefore, private healthcare is the only option.
You can still get advice and treatment at a GP surgery as a temporary patient, but only receive primary care and must hold private medical insurance in order to be covered for medical treatment. You won't be able to be referred to a specialist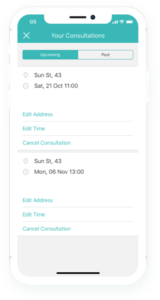 Top 3 Ways Of Seeking Medical Treatments Or Advise For Non-EU And Non-EEA Students
Walk-in Centres:
These clinics provide treatment and advise for minor injuries and conditions. The term walk-in means that you can turn up on the same day and be seen, but with a wait time. Non-EU international students can visit these clinics for various health issues and medical advise.
Pharmacies:
Non-EU international students can visit their local pharmacy and seek medical advice for common conditions. The pharmacist can recommend medications and give general medical advise on common health issues.
Private GPs:
Private healthcare is a great alternative and can be the best option for international students that cannot get free NHS treatment or register with a local GP. Non-EU or Non-EEA students can book an appointment with a Gogodoc GP receive consultation anywhere, even at their universities. We offer medical help, advise, and prescriptions. We can even refer you to a specialist if needed.