The new Apple Watch 4 comes with several features, but the one that's received the most attention is the ability to perform an electrocardiogram (ECG). An ECG is typically performed by attaching sensors to the skin which detect the electrical signals produced by the heart each time it beats.
But is Apple's new feature sufficiently accurate to do more good than harm?
Portable ECG devices are nothing new
'We've added electrodes into the back-sapphire crystal and the digital crown, allowing you to take an electrocardiogram', said COO Jeff Williams, eliciting one of the day's biggest rounds of applause. 'This is the first ECG product offered over the counter, directly to consumers'.
It turns out that Apple's new watch is not the first direct-to-consumer ECG. There are several different monitoring devices on the market that allow you to conduct your own ECG. One example is the monitor from AliveCor. It costs £100 and connects to your smartphone via Bluetooth. The company even offers a KardiaBand, also £100, which works with the original Apple Watch to add the same ECG functionality.
But let's not concern ourselves with the novelty claim. The bigger question is whether it's a good idea in the first place. Healthcare providers usually use ECGs in hospitals to measure the heart's electrical activity and detect abnormalities in its rhythm. But with the latest iteration of its smartwatch, Apple wants to put an ECG on your wrist that you can use 'anytime, anywhere'.
It sounds like a great idea, in theory.
Conducting an ECG
Not only are ECG readings notoriously difficult to grasp even among medical professionals, it usually involves a more complex setup. The standard test is known as a 12-lead ECG, which simultaneously records electrical activity from multiple locations in the body giving you 12 different views of the heart.
Contrary to this, the Apple Watch 4 is equivalent to a single-lead ECG. On the back of the watch, there are electrodes built into the digital crown. Touching the digital crown with your finger for 30 seconds will create a closed loop that will then generate an ECG waveform.
Although it gives only one view of the heart it can still be useful. Indeed, some monitors that outpatients wear over an extended duration also offer one view.
'It will save lives!'
'Do you wind up catching a few undiagnosed cases? Sure. But for the vast majority of people it will have either no impact or possibly a negative impact by causing anxiety or unnecessary treatment', says cardiologist Theodore Abraham, director of the UCSF Echocardiography Laboratory. The more democratised you make something like ECG, he says, the more you increase the rate of false positives – especially among the hypochondriac set. 'In the case of people who are very type-A, obsessed with their health, and fitness compulsive, you could see a lot of them over using Apple's tech to self-diagnose and have themselves checked out unnecessarily'.
A false positive result is when the monitoring device identifies an individual as being at risk of having a heart condition and is subsequently diagnosed as not being so. Direct-to-consumer screening devices, in general, will naturally aim to give an excess of false positives for fear of possible legal action. This would result in hordes of frantic, yet otherwise healthy, individuals rushing to see a doctor, thus placing excess pressure on the health service.
Screening for diseases is only a sieve – it will not pick up all cases, and some will be missed or develop soon after. The concern is whether home screening devices, such as Apple's new watch, can prevent enough people from developing a serious disease to justify the burden of false positives.
The American Heart Association (AHA) does not endorse the watch, or any other products – and had no role in Apple's ECG app. Yet this did not prevent Ivor Benjamin, president of the AHA, to give his support during Apple's official unveiling of the watch: 'Products that seek to provide deeper health insights, like the Apple Watch Series 4, offer great potential in getting us there'.
It's also worth noting that the FDA has approved the ECG feature on the Apple watch, albeit with caveats. As expected, the FDA report injected a bit more modesty into the product, stating, 'The ECG data displayed by the ECG app is intended for informational use only. The user is not intended to interpret or take clinical action'.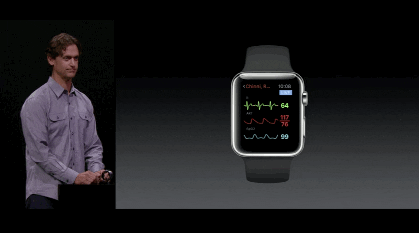 Conclusion
The Apple Watch 4 starts at £399 for the GPS-only model and increases to £499 if you upgrade to the cellular model. It offers several useful applications besides ECG monitoring and heart rate measurement. It can track falls and call emergency services if it doesn't detect movement after a minute, alert users to low heart rates, and offers a host of fitness tracking features.
Although the Apple Watch 4 may not be as accurate as some other ECG devices, it could still prove useful for flagging up an undiagnosed heart condition and prompting further investigation. The question is whether Apple's new feature can prevent enough people from developing a serious heart condition to justify the expense. It's doubtful. But with all the data collected it could, with your permission, make you a research subject.